7 May 2018
As from 7 May 2018 the maritime department of Dockx Logistics nv was taken over by TCI Carriers bvba, located at Bredabaan 842-844, 2170 Merksem, Belgium. Please do not hesitate to contact TCI Carriers, a specialist in providing integrated, comprehensive solutions, for all your ocean, air, and rail transport needs.
About TCI Carriers bvba
TCI Carriers was founded in 1981. Over the years it has grown into a medium-sized organisation and into a network with various logistics partners in the most important port cities and airports. TCI Carriers offers solutions in sea freight, air freight, road transport and rail transport. The acquisition of Dockx Logistics Maritime division fits within the growth plans of TCI Carriers to expand services related to maritime transport.
About Dockx Group
RDockx Group recently made the strategic choice to fully focus on the synergy between its existing rental-moving-transport activities, resulting in the new Dockx Select service. This approach ensures an innovative and sustainable distribution concept with collection points on the outskirts of the city and uniform 'last mile' delivery services with rental, assembly and installation options in Belgium. Dockx Group is fully committed to this new set-up and is continuing to establish its logistics city distribution centres throughout the country. The takeover of the Maritime service fits into this strategy.
Details TCI Carriers bvba
Bredabaan 842-844
2170 Merksem, Belgium
T: +32 3 242 98 93
E: info@tci-carriers.be
Company number: 0421.687.902
Contact
Tom Leonaers: tom@tci-carriers.be
Annie Smeulders: +32 3 800 09 06: annie@tci-carriers.be
Yves Goossenaerts: +32 3 800 09 01: yves@tci-carriers.be
Bart De Brauwere: +32 3 800 09 00: bart@tci-carriers.be
Noëlia Jimenez Gonzales: +32 3 800 09 02: noelia@tci-carriers.be
Karl Opsomer: +32 3 800 09 03: karl@tci-carriers.be
Kristel Quick: +32 3 800 09 04: kristel.q@tci-carriers.be
10 January 2018
As from 1/1/2018 the International road transport division at Dockx Logistics nv will be taken over by Interfreight Antwerp nv, located at Noorderlaan 157, 2030 Antwerp. The takeover concerns the international transport service only. The Dockx Logistics national transport and distribution department is not being taken over and will stay the same as you've always known it.
For 25 years Interfreight Antwerp nv has been operating as an independent transport company based in the Port of Antwerp. International transport is at the heart of their activities. Interfreight Antwerp began taking care of road transport to and from Switzerland back in 1991. These activities have since extended to include its own shipping and customs division. Later they added distribution within Belgium and warehouse management.
Integration of the international road transport services from Dockx Logistics will serve to reinforce the essential service provision within Interfreight Antwerp for international transport in general and particularly for Switzerland.
Dockx Group developed a new strategy a few years ago. This strategy emerged from the collaboration between the rental-removal-transportation divisions and resulted in a new service, Dockx Select, focusing on home deliveries of large parcels with collection points via various well-known Dockx Service Shops across the country. A unique new story and a new future, in which mobility and logistics increasingly team up and become one. Transferring the international road transport division is part of this strategy.
Your existing contact person remains at your service for any questions. Your usual contacts (Bert van Geffen, Wim Geluykens and Frank Geens) still remain and they are happy to help you with your transport assignments from this new company.
Details Interfreight Antwerp nv
Noorderlaan 157
2030 Antwerpen
T: +32 3 541 99 90
F: +32 3 541 97 90
Company number:: 0442.022.070
Contact
General: info@interfreight.be
Bert Van Geffen: bvg@interfreight.be
Frank Geens: fg@interfreight.be
Wim Geluykens: wg@interfreight.be
2 May 2017
On 1 April 2017, Dockx Group and Rhenus Office Systems embarked on a joint venture to further commercialise archive storage on the Belgian market. A new company has been created for these activities: Dockx Rhenus Archisafe nv. Current physical archive storage services will be professionalised further under the Dockx Rhenus brand, and a user-friendly online platform will be developed in future.
"Rhenus and Dockx Group complement each other perfectly. Rhenus' experience as an international specialist in information and document logistics and the strength of the Dockx brand on the Belgian logistics market form a unique combination for the further development of physical archive storage and document management", according to Wilfried Dockx, Managing Director of Dockx Rhenus Archisafe.
"We have found a partner who is a family business, just like Rhenus, and who is genuinely interested in the wide range of services around document management and archive storage. The needs of our customers and the provision of solution-focused services are central to what both partners do, and that is especially significant considering the future importance of information and document logistics", Gerrit Merten, Managing Director of Dockx Rhenus Archisafe, explains. Rhenus Office Systems handles more than 15 billion documents in archive storage worldwide. The company provides document management services to over 15,000 business customers, and is responsible for 1.5 million container movements annually.

26 May 2015
Undoubtedly, you have been looking forward to this for a very long time, and finally the time is here! You can now rent the BMW i8 electric car at Dockx Rental. Those who rent the i8 are looking for something special. It is a renewed design. It is the first electric car that offers the superior, dynamic driving experience of a sports car, combined with the lowest consumption and CO2 values of a small car. That makes driving with the BMW i8 even more exciting than a traditional sports car. It is conscious, environmental driving!
If you want to rent a small, practical car for the city, Dockx gladly presents a new series of city cars. First, we have the Smart Fortwo. This compact, economic and highly manoeuvrable car makes you invincible in the city. You can also opt for the new MINI 5-door. That is enjoyable comfort and style. Another top car in affordable rental cars is the Opel Astra. Or let yourself be seduced by the refined silhouette and elegant lines of the Peugeot 108. The list is completed with the Citroën C3 Picasso and the Opel Mokka. These new smaller family cars offer lots of room for everyone!
At Dockx Rental, you can now rent the Opel Cascada. This means that we are ready for a warm summer, and you? Renting this convertible is synonymous to the pure enjoyment of driving with the top down. It guarantees top quality and a great ride!
You can also rent a sedan or a minivan at Dockx. The BMW 2 and the Opel Zafira are new additions to the category of larger family cars. That means space, versatility and comfort for the whole family. Allow yourself to be charmed by the sublime driving experience and the stylish design of these family cars.
29 April 2015
From store to door & more: synergy between hire, removal and logistics activities.
Dockx Group launches a new business concept. This new strategy brings together the total solutions in rental, removal and logistics. To be more specific, this means the launch of a unique service to the market: providing complete logistics services for the omni-channel approach offered by manufacturers and retailers.
Challenges in a rapidly changing logistics landscape
Dockx Group responds to major developments in the logistics and retail world. Mario De Bruyn, commercial director of the Dockx Group: "With the rapid rise of e-commerce, consumers need a large network of collection points outside of city centres. Vehicles are also increasingly being banned from city centres for environmental reasons and to maintain liveable cities. Retailers are therefore required to assume an omni-channel strategy in which it is the consumer himself who chooses the sales, pick-up and payment channels."
The new focus is on the after purchase logistics for large packages. For example, from offering the consumer the opportunity to personally bring the purchased goods home using a hired vehicle to an A to Z service (transport of goods, assembly and installation) by Dockx.
As part of this concept, the Terbekehofdreef logistics site in Wilrijk serves as a regional distribution centre for Flanders and Brussels. A second regional distribution centre will open in Nivelles at the end of the year, which will be responsible for the Walloon region. Large packages will be stored at these two locations for companies and individuals and later distributed to the local "Dockx Service Shops" in Flanders, Brussels and Wallonia during the night.
Expanding to 30 Dockx Service Shops
The development of a network of "Dockx Service Shops" across Belgium is a further step in this strategy. Customers can hire a vehicle at these locations as well as find a wide range of materials and handy removal boxes. The shops also serve as collection points for large packages. Each shop is also equipped with a small 500 to 3,000m2 warehouse, which allows companies to use them as a local distribution channel.
Tom Nuyts, operational director of the Dockx Group: "We can bring their large items from these small warehouses to the consumers and even assemble them on-site. Customers can rely on Dockx to transport anything they can not carry in their own vehicle. Companies such as Ikea, Mars and Ixina already work with Dockx in this way."
Within the next 3 years, Dockx plans to launch 12 new collection points with "last mile" delivery services that include hire, assembly and installation services near every market in Belgium.
1 July 2014
Finally, the long awaited new Porsche Boxter S Cabrio is finally available for rent at Dockx Rental. It was worth the wait.
Taking turns with the wind on your skin, with the Boxter you can truly enjoy this sensation. A design classic. A powerful sports car fitted with a central engine; a classic roadster. Design and functionality, tradition and innovation are combined in a harmonic symphony. Extreme driving pleasure and sense of freedom.
Renting a convertible, a sports car, or a luxury car, Dockx' list of new rentals is completed with the new Mercedes C class and the new BMW 3GT.
With Dockx you rent actual driving freedom!
28 May 2014
The specialist Dockx Rental Point now also operates from Rue du Jardin Botanique, 14, 4000 Liège. It offers a broad range of rental vehicles, going from compact private cars, mini-buses and motorbikes, handy delivery vehicles and removal vans as well as trailers and lorries. Very practical removal boxes are also available at the Dockx Rental Point. Dockx Rental Liège is open from Mondays to Saturdays, non-stop from 8am to 6pm. Closed on Sundays.
Contact Benoît Depuis at 04 253 28 00 or liege@dockx-rental.be.
14 April 2014
Friday 28 March 2014, Jozef Dockx, Chairman OF Dockx Group, received the SME Career Award during the Night of the SME. This Lifetime Achievement Award is awarded annually to the person who has distinguished himself/herself during his/her career. Baron Paul Buysse (2011), Fernand Huts (2012) and Eddy Bruyninckx (2013) have all received this award. A special distinction for a special man.
Jozef Dockx established the nv Dockx-Packages Express in May 1979. He started renting out trucks and vans on the Boomsesteenweg in Wilrijk. The family business continued to grow into a diversified group with extensive services in vehicle rental, removal and logistics (forwarding, customs, storage, transport, distribution). In 2014, Dockx Group is situated on the Terbekehofdreef in Wilrijk with a new logistics site and warehouse.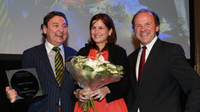 From left to right: Jozef Dockx, Natalie Opitz, Flemish Minister of Finance Philippe Muyters
Key figures Dockx Group:
200 employees
1,200 vehicles
40,000 m2 storage
€ 50 million turnover
16 locations in Belgium
4 November 2011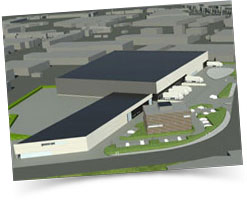 Dockx Group logistics site
The new-build of the logistics site of the Dockx Group at Terbekehofdreef 12-22 in Wilrijk is on schedule. The group intends to centralise all the logistical activities of its companies - Dockx Rental, Dockx Movers, , Dockx Industries - Lombaerts and Markant – here. The new warehouse has been up and running since the beginning of October [2011].
An ideal base to serve Belgium and Europe
Terbekehofdreef near the A12 in Wilrijk is an excellent location: it is near the Antwerp port and the inland terminals, as well as being centrally located on the Antwerp-Brussels axis.
The Dockx warehouse is an ideal base for further distribution in Belgium and the rest of Europe (Luxembourg and the Netherlands, Northern France, the Ruhr, Austria and Switzerland). The warehouse is a EDC1 as well as being a RDC2.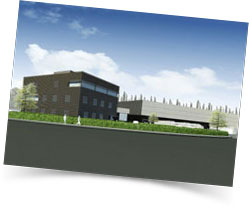 100% carbon-neutral buildings and warehouse
Dockx has opted in favour of a sustainable approach. We built a 100% carbon-neutral building, using heat pump technology in combination with solar panels on our roof (1MWp), thus contributing to the achievement of the objectives of the Kyoto Protocol.
A host of storage possibilities
The warehouse, which is fully automated, using the most recent WMS3, TMS4 and FMS5 technology, offers a host of storage possibilities:
Pallet, bulk and shelf storage
Container storage
Furniture storage
Archive storage
Storage under customs supervision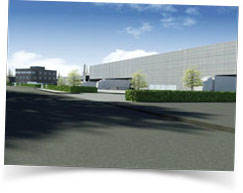 State-of-the-art warehouse
The warehouse has been developed in line with the most recent logistical insights, equipped with a sprinkle installation, CCTV and has been completely secured as well as being fully heated.
It has a total floor surface of 12 000 m² - 14 m overall height and 12.2 m clearance. The loading bays are equipped with 17 doors (5 grade level doors and 12 loading docks).
1 December 2008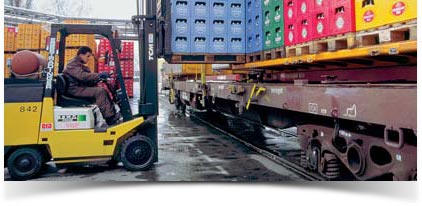 Tolimpex, pan-European and worldwide logistics provider, and the Contract Logistics division of Rail Cargo Austria (RCA), a subsidiary of Austrian Railways (ÖBB), have extended their range of logistics services with a unique concept that offers fast and inexpensive transport solutions for groupage cargo between Belgium/GD Luxembourg and Austria. The partnership between the two companies will also guarantee a long-term and reliable solution for daily shipments to and from the majority of the Eastern European countries.
Daily transport
Shipments are collected every weekday in Belgium and Luxembourg. They are dispatched by truck from the Tolimpex hub in Antwerp to one of the 13 RCA distribution centres in Austria. Groupage consignments are unloaded at one of the centres and distributed overnight to the RCA depot closest to the destination by rail. Next-day delivery from the depot is guaranteed. "The unique concept of this system enables us to guarantee transit times between 24 and 72 hours, door to door, for every shipment", explains Armand Storck, managing director of Tolimpex. "Our distribution services cover all domestic destinations in Austria, but also include door-to-door deliveries to 12 countries in Eastern Europe", adds Burkhard Knapp, head of Business Development at RCA.
Strategic partnership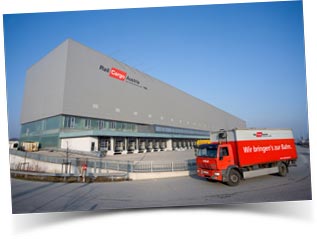 This partnership is of strategic importance to both parties. As part of its European expansion, Rail Cargo Austria has such acquired a strong partner in Belgium and Luxembourg for its European groupage network. "Tolimpex has a solid reputation for international road transport and also has a long history of experience with Austria. In addition, they are also one of the market leaders for transport between Belgium and Switzerland. We are therefore quite pleased to welcome Tolimpex to our agency network", says Burkhard Knapp. "Tolimpex has specialized in niche destinations and with the contract division of Rail Cargo Austria we have found a strong partner for development of the Austrian and Eastern European distribution", adds Armand Storck.
Central gateway to Europe
Rail Cargo Austria has benefited from Austria's central European location and goods are transported quickly and efficiently to most of the countries in Eastern and Central Europe. "Belgian companies are thus ensured of a rapid access to Austria, Albania, Bosnia, Bulgaria, Croatia, the Czech Republic, Hungary, Macedonia, Montenegro, Romania, Slovenia, Slovakia and Serbia. Austrian companies get quick and easy access to the port of Antwerp, one of Europe's leading ports, and their local clients in Belgium and Luxembourg," says Armand Storck.
Fast and environmentally friendly
The combination of transport by truck and rail is fast, inexpensive and environmentally friendly. The first leg of the distribution in Austria is always on time and is unaffected by traffic jams. Distribution by rail is guaranteed overnight, during the weekends, on bank holidays and under all weather conditions.
Emporia Invest Holding & Finance nv
© 2008-2021 Dockx Group -
Privacy
-
General terms and conditions
Terbekehofdreef 10 - BE-2610 Wilrijk, België
BTW BE 0478.075.980 - RPR Antwerpen